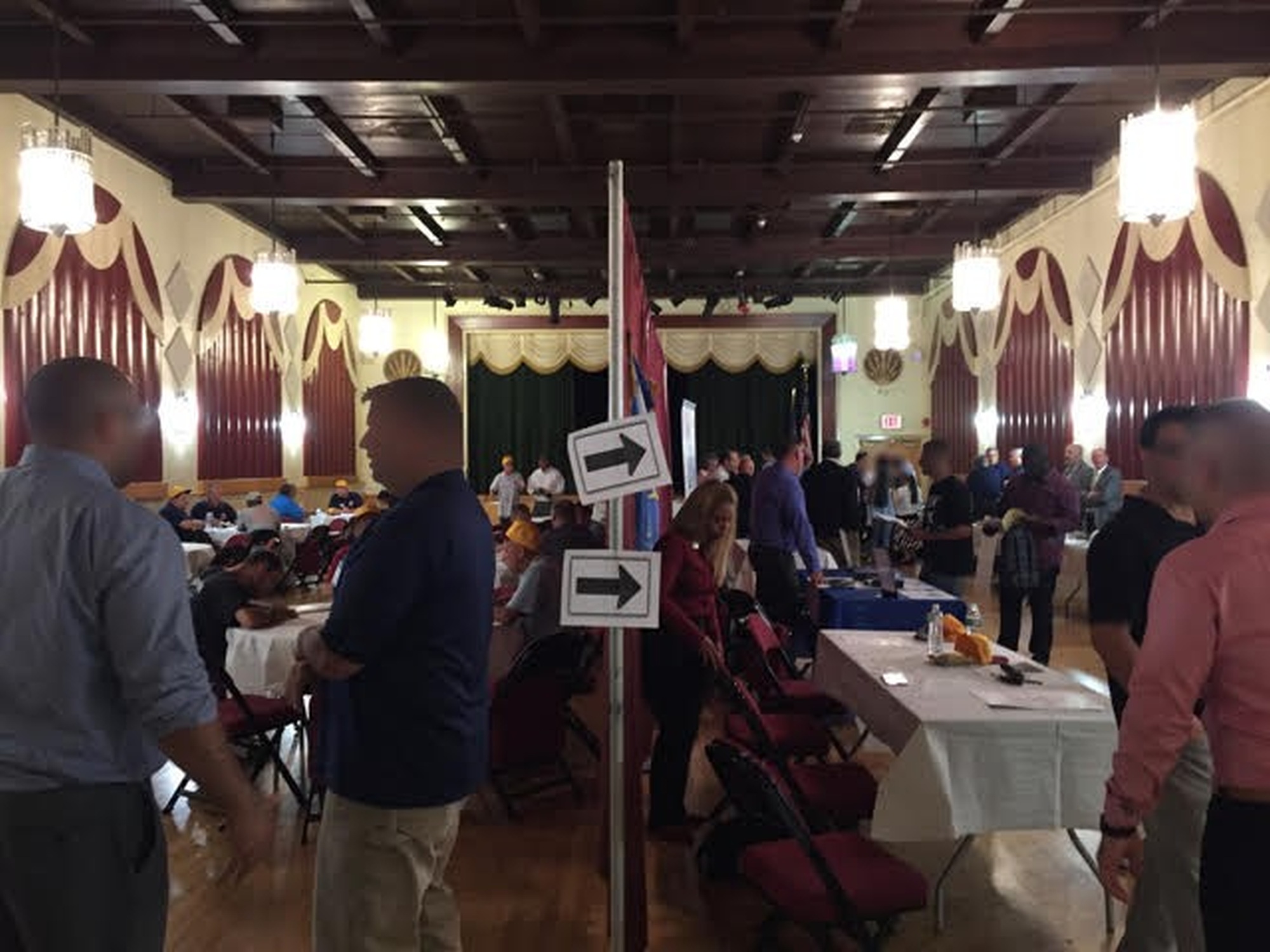 Pictured are some of the 168 people who attended the Job Fair in the hopes of entering Local 3.
In the Westchester area there are 6 cities, 19 towns and 23 villages. Many of these areas are experiencing a residential construction boom, similar to what we are seeing in the 5 boroughs of New York City. In White Plains, there are currently 7,500 residential units in various stages of development. In Yonkers, there are over 5,500 units. The City of New Rochelle has recently approved a 10-year master plan including 6 high rise mixed-use building and other projects along the Long Island Sound.
Local 3 Business Manager Christopher Erikson has directed an organizing drive for the "M" Division to recapture this work. Organizing will improve the standard of living for non-union electricians, strip experienced electricians from non-union electrical contractors exploiting these skilled electricians and at the same time filling the call for "M" journeypersons and helpers. It is imperative that we remain competitive in order to recapture this work opportunity for Local 3 members.
On Wednesday, August 9th, 2017 Local 3 Westchester/Fairfield Division, signatory contractors, Local 3 clubs and retirees hosted a job fair at the Westchester County center in White Plains. Information about the event was made available and could be seen on Instagram, Facebook, YouTube and Local New Station Channel 12 and six other television stations including CNN and ESPN. Over 60 Local 3 volunteers from the Acorn Club, Latimer Progressive Association, Santiago Iglesias Educational Society, Westchester Mechanics, shop stewards and superintendents along with NECA representatives, 9 signatory contractors, JIB representatives and the White Plains Joint Apprentice Department all made the Job Fair another Local 3 successful event.
168 people entered the county center å_expressing their hope and desire to become Local 3 members. These guests were welcomed in groups of 15-20 by Assistant Business Manager Elliot Hecht and Business Representatives Tom Capurso, Rich McSpedon and Louis Sanchez. A special Welcome Video by Business Manager Christopher Erikson provided an orientation, Local 3's history and a brief outline of our Union benefits. They then entered the theater in the County Center where tables manned by Local 3 clubs, contractors, the JATC and retirees were set up for a friendly meet and greet. Before leaving, each guest filled out pledge cards and prepared questionnaires indicating their employment history. Many supplied resumes and expressed thanks at having an opportunity to provide their information in hope of a better future.
The next step will be interviews with our staff where basic knowledge will be evaluated and then a possible boot camp for those individuals with good electrical knowledge to demonstrate their practical skills.